We offer residential and commercial ice dam removal in New Hampshire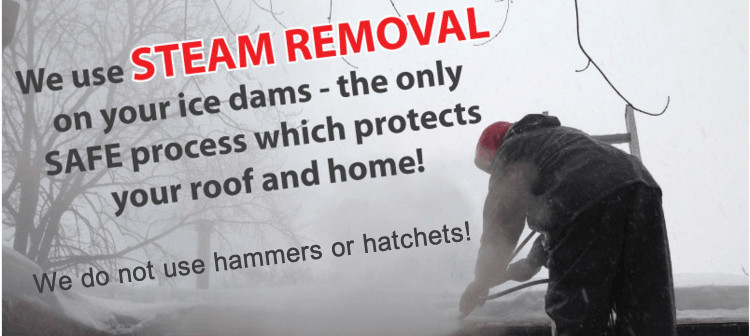 Known of its quaint towns and large areas of abundant wilderness, New Hampshire is no stranger to heavy snowfall and freezing temperatures. We are currently serving all of New England – including New Hampshire, Maine, Massachusetts, Connecticut and Rhode Island.  We were also in New England during the 2014-2015 record breaking snowfall assisting with both ice and snow removal. We saw more snow than even we are used to in our home base of Minnesota!
The heavy snow falls and freezing temperatures in New England can often lead to ice build-up and ice dams on your roof. Often times you will even see water coming into your home.
If this is the case, you need the help of professionals – RTD Ice Dam Removal. We are a Minnesota based company that spends about half of the year dealing with snow. Because ice dam removal is such a specialized service, we travel throughout the country based on where the snow is to help those in need. We know not only how to do it right, but how to do it without damaging your home.
We use a process of steam to remove ice from your roof. Steam is the safest method to remove ice dams – do not allow anyone without experience to work on your roof, especially with a hammer or hatchet which can lead to even more damage.
Often times our service is needed because of an emergency – you have water coming into your home – that is why we offer same day or next day ice dam removal services. We have traveled to all northeastern states of New England – including Maine, Vermont, New Hampshire, Massachusetts, Connecticut and Rhode Island.
We are a phone call away – let the ice dam professionals safely remove the dangerous and destructive ice dams on your home. 877-687-3639
Our technicians are our employees. Unlike many ice dam removal companies, we don't use sub contractors. This provides you peace of mind knowing that an accident doesn't cause you any liability on your insurance policy since our employees are covered under Workers' Comp insurance. You are also protected with $2,000,000 in general liability insurance. Certificates of insurance are available upon request.
Trust us to keep you, your family and your home safe:
We use steam to safely remove ice dams. Click here to learn about our superior ice dam removal equipment.
To protect you from liability all of our employees are covered by Workers' Comp insurance. You are protected with our $2,000,000 in general liability insurance. Click here to view our insurance certificates.
We're experienced. We have removed more ice dams than anyone since 1995. News organizations frequently feature us for our expert experience. Click here to view some of our news clips.
Our technicians are highly trained. Each employee has gone through an extensive in house DVD training program along with in-the-field training with a certified trainer with years of experience.
We have been accredited by the Better Business and have an A+ rating. Check out our reviews on Angie's List, Google+ and Home Advisor.
We also provide roof snow raking and roof snow removal to help prevent future issues.
617-504-5717
617-504-5717